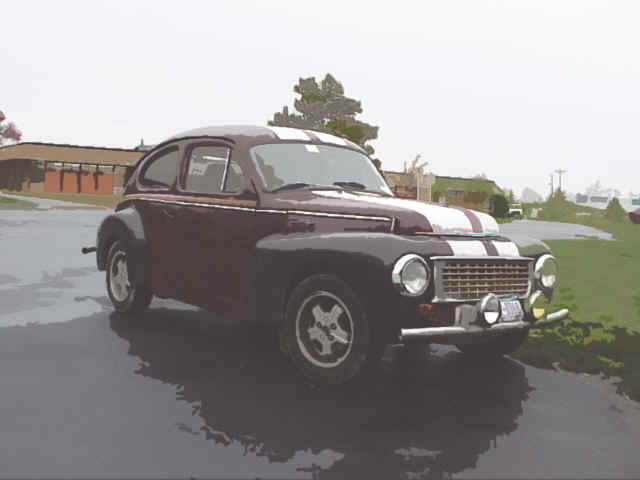 virgilthevolvo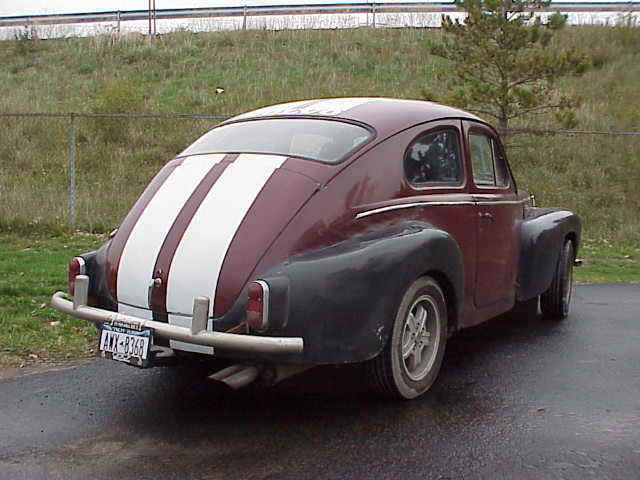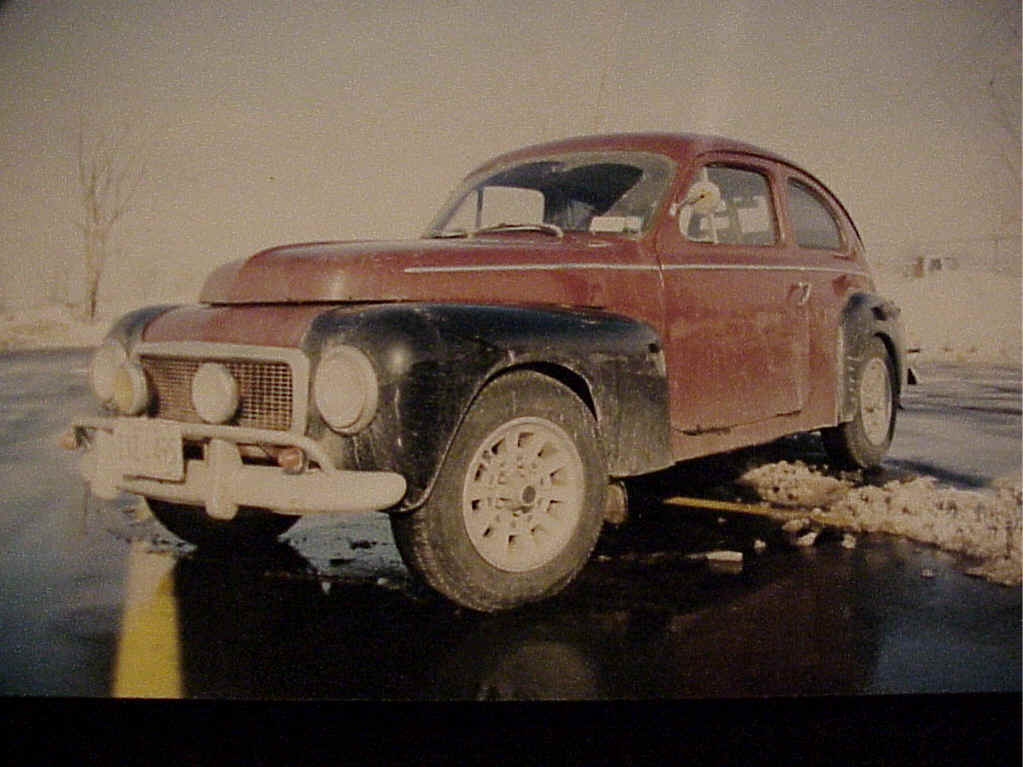 virgil with Thunderbird Wheels around 1990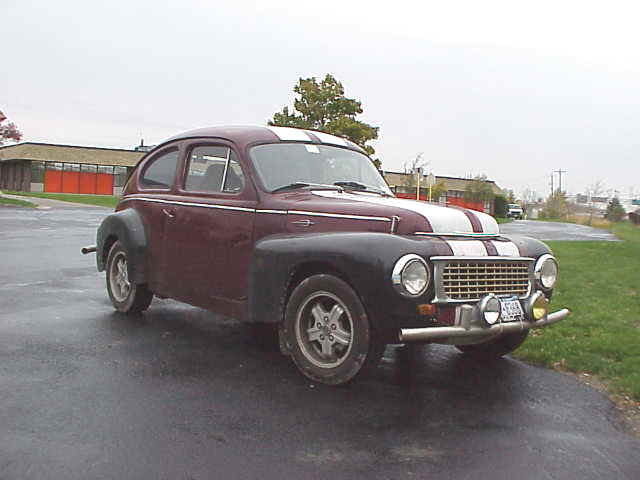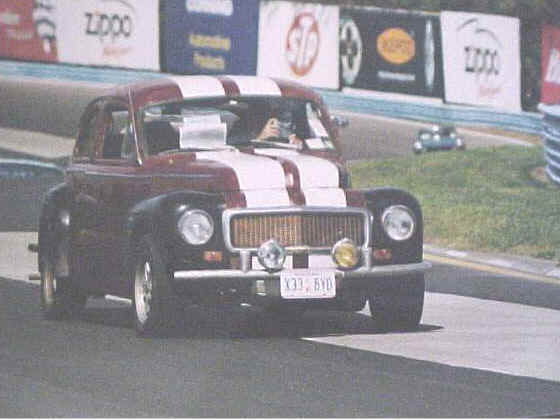 Below is the dash plaque and trophy art for the Volvo Meet held June 1-3 2001
That's Virgil in the front! (artwork taken from above Photo taken by Jeff Mathews)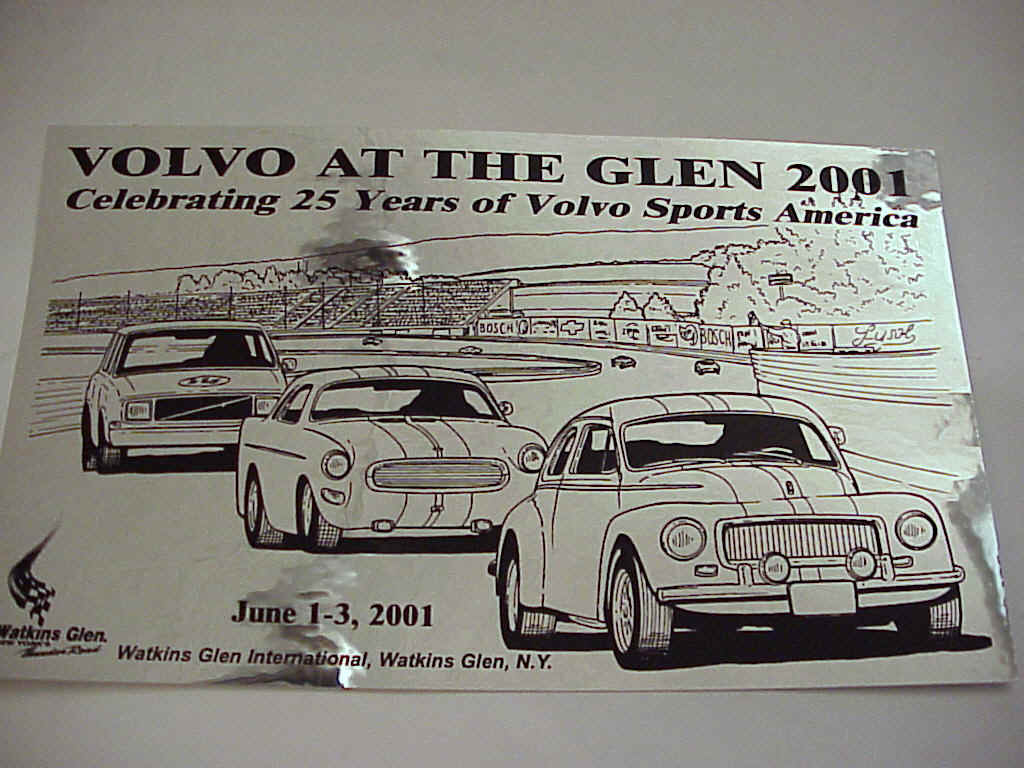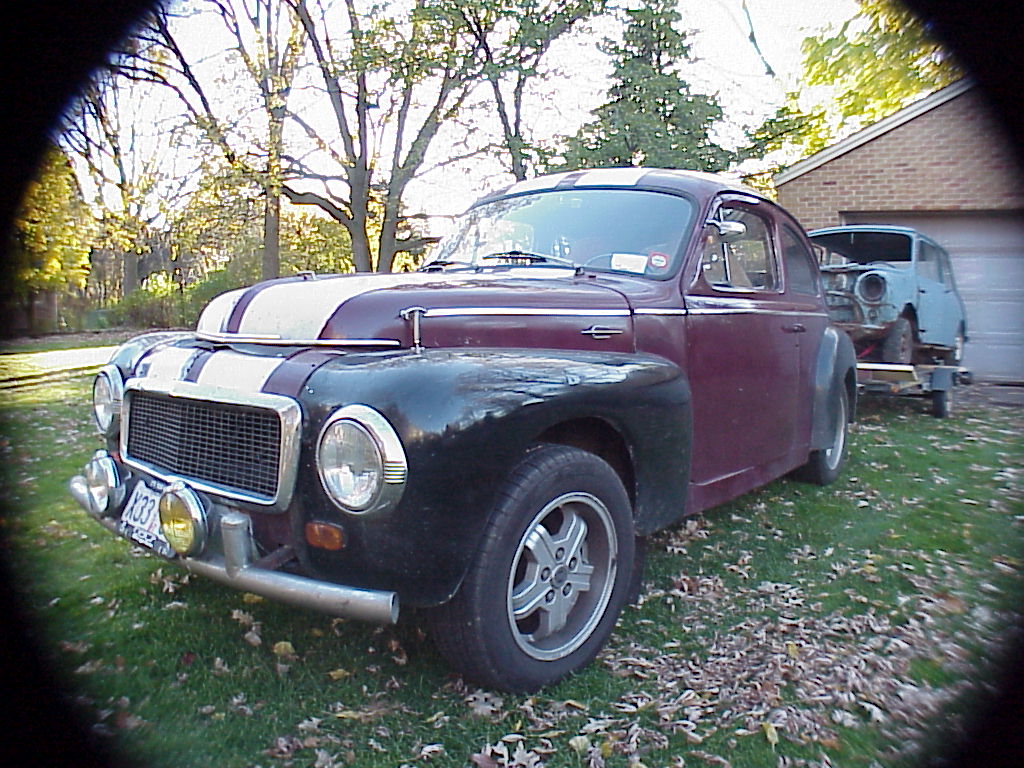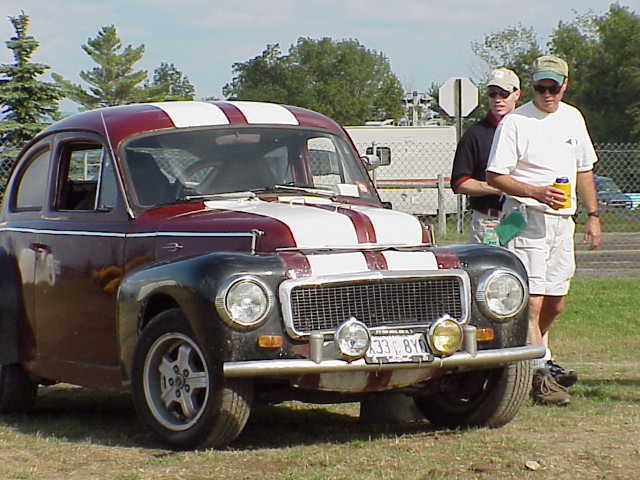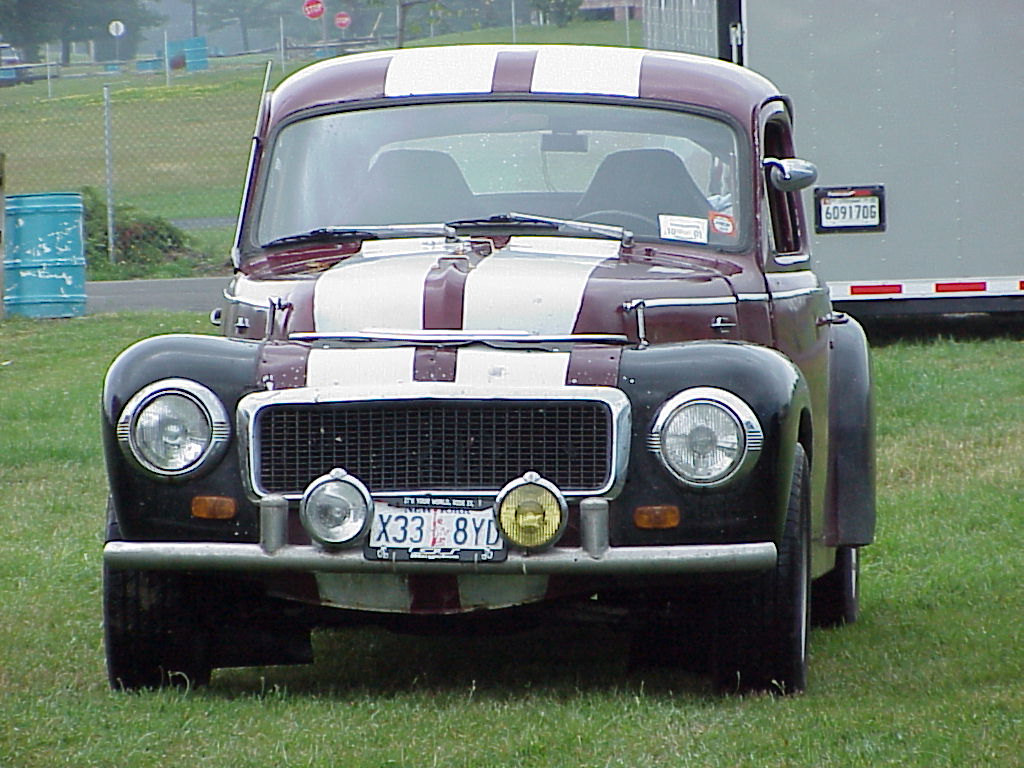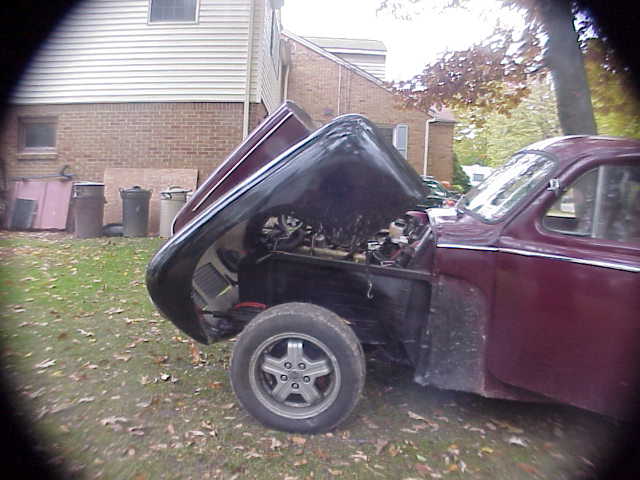 Virgil is a "winter Car!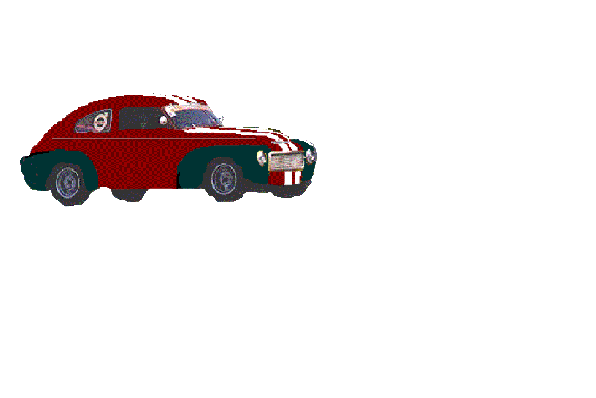 Virgil was purchased as a "winter car" in 1983. Winter in Buffalo are too harsh for my '72 1800ES so this looked like a reasonable decision. The original car came in off white and was painted a brilliant green (Earl Schieb) and then a robins egg blue when I received it. I paid $300 and towed it home with the 1800. B16 and 6 volt was only made worse with the 3 speed and 3.56 rear end and a Zenith down draft carb (Canadian version).
For the first few years I made due with the original items and drove it everyday as a winter car should. New battery and starter but stock otherwise. Then I started my modifications. First was a carter carb held on with a couple of bolts and a bathroom "O" ring as a spacer so the butterfly would open. Then a pair of H4 SU's and an extra heater along with two batteries. Tires were being worn so I got some old ford wheels and put on some larger "H" series tires. The metal bumpers were included as parts but they had been replaced with 2X4's (wood).
So the color changed to a Lincoln Continental Dove Grey with some smart red pinstripes. That winter, a pickup with a plow decided to open the driver side like a can opener with the blade of the plow on the driver's side from tire to tire. Had to get a new door and weld up the rest until the fall when I can really fix him up. That fall the color changed to a medium blue (Volvo) and the bumpers became steel tubing and painted black. The king pins were showing wear and the long periods of inactivity (spring and summer) resulted in tight steering. The B16 was beginning to smoke so a B20 was installed along with overdrive and 12 volts. Plumbing the radiator was just a tube under the radiator (b16 radiator lower hose is on the opposite side as the B20). I used the B16 motor mounts and the engine was in but the "tunnel" needed some configuring to get overdrive in it right. The Long Stick for the shifter made it look stock but overdrive for the highway work comes in nicely.
Then came the disk brakes from an early P1800 for the front and lots of welding for the rear frame and control arms. Fiberglass front fenders came next and the color changed again to maroon and black. By now I have come to the conclusion that Virgil is never going to be anything but a "winter" car and I should begin letting my mind wander. So he has become the victim of my imagination and there is no limit to that!
So, the B20 is in but the rust is making the kingpins tight and the disc brakes are the 3 piston ones from an early 1800. I have, by now, taken apart a couple of P1800's and have a considerable number of spares to help in any project I may conjure up. What about a transfer of a whole front cross member from wheel to wheel? It looks like a go and I'll get better shocks, a larger sway bar, newer tie rods, and everything is a little newer for replacement purposes. I have an early 1968 coupe donor and I cut off the frame rails of the 544 about 8 inches in front of the firewall. Weld in the cross member and create a front frame for the radiator support and body work, and hope for the best. At this same point, I decide I would like the "short" shifter from the P1800. this was a very silly thing to do because I now had no reference point at all! I'm doing this in my home garage and by cutting off the front end and then changing the rear attachment point, I have to guess what is straight and true. I have a tunnel from the 1800 but where to position the hole ? Where is the stick going to come up? Where are the motor mounts going to place the engine? What have I done?
I also thought the steering column would be nice from the 1800... I wonder if that would fit? I went for it and somehow it all worked out. The seats were replaced with '73 Black leather 1800 and as long as I'm there, that speedometer never worked in the winter without screaming. How about a nice round one from a late 1800ES? The only thing difficult was the spacing for the steering rods. To make them point in the same direction I had to compromise some movement. I could make great lefts but a hard right wasn't happening. Only dangerous when trying to park in a tight spot. So I improvised by shortening the outside rods and also the center one. Whew! I thought I was in trouble but when done, I had a 544 with fiberglass front fenders, B20 engine, steering and suspension from a car 13 years newer, and an Overdrive transmission. Pretty good.
Some issues were the wider track up front and I still had the 4.56 rear end with drums. Still a winter car but now a little Frankenstein underneath. The rust was unrelenting, so for the next few winters I was welding the rotting floor where it mounts the control arms and I also realize the small gas tank has shortcomings. Eight gallons takes me under 200 miles and I'm driving this car as my everyday car. Well, I see another major chunk coming. I removed the old tank and put in some angle iron for a frame for the 1800 tank. While re-filling the new tank, I forget to turn off the electric heater across the garage floor. Oops! Splash boom FIRE! Roll him out into the snow and hope there isn't enough fuel to start the building on fire. Ok, dumb but the splash burned out and the garage was not harmed. Virgil though, had some lenses melted, and all those layers of paint are flammable, and so too is the tire and I was using '78 Thunderbird wheels that were 7" wide but plastic coated steel (they looked good) but the wheel melted too.
Around 1995 I had a brain fart. "What if I took the whole floor from an 1800ES (from the rear of the door ALL the way across and ALL the way back) and put it under Virgil?" The 4 bar link suspension, Panhard bar, shocks, fuel tank, AND disc brakes! Not to mention the flat floor inside the car and extra compartments for storage and fold down rear seats. Eureka! By now another 1800ES came to me and I had a SAWZALL ! Cut off all that i thought was unnecessary and the result was a chunk I could roll around and my measurements indicated the frame member for the 544 that the rear seat rests on will be 2" in front of the same frame rail from the 1800ES. I'll have two!.
So I cut from the bottom of the door, up and around the fender to the trunklid leaving a ribbon of steel for reference and over to the other side. Roll that piece out (jacking it at the doors) and ....what was I thinking? Oh yes, Frankenstein! Roll the 1800ES piece under and see if there's a chance for connection. Yep! A week of evenings of rolling it out and grinding and rolling it back and Bingo. I think this will fit. Get it straight (or so) and think about ride height and driveshafts and weld the thing in. The track is wider and the fenders are not compatible. The 544 body includes half the inner fenderwell with the fender finishing it off. The 1800ES has a full inner fender well. So I choose the 1800Es and weld the top of the 544 fender opening to the top outside point of the 1800ES inner fender well. Lots of gap but it's the form and structure I'm blending. Weld in an extra 2" to the top of the fender and bring it around to the rear. Cover from the trunklid down 8" with a steel panel and filler filler filler. Those taillights were always too dim and I forever was loosing a good connection or ground and just had to go. Those 1800 ones looked and worked better so... I wonder if.... yep place them on their side and they'll look great.
Now, how does it work? FIne! After some workout things I really got it to work out great. I had a Stick rear end in there originally but it was too loud and I also had an automatic (4.10 vs. 3.91) So in went the 3.91 and I've got a cruiser. I had a one piece driveshaft made but wanted the two piece so a 740 front and a 1800 rear half and it's smooth. As for the gaps and spaces what I couldn't weld shut ( a 2" pipe between the 2 frame members at the seat) I used "greatStuff" foam. What a product! Seeing that I now had rear discs (108mm bolt pattern) the only logical thing to do was to replace the 1968 front suspension with the Dual circuit 4 piston arrangement in the front from the 1973ES. Now a full set of Turbo wheels 195x60 - 15 and I'm rolling.
Proving that I've got too much time on my hands, I now go after the engine. The hood hinge left a long time ago and was replaced by a Stanley 4" brass unit at the front with a stick for holding it up. The radiator was old so a radiator shop sold me something like it and I attached an electric fan to the front and took off the fan on the waterpump ( I needed a "tilt" for everything to fit). Then electronic ignition from Crane X700 and a one wire alternator from a GM V8. The clutch and brake were moved off the floor and now "swing" from the firewall. The heater had to go to the center and since the shifter was moved... I could do it. But the engine was just an old B20 with new rings and bearings and the head from a B20E with 10.7 compression. So I decided I NEEDED to fix up the engine. So I had it bored .030 and tanked and really made nice. Then I put brand new pistons and a cam and lifters and clutch. I even put on a Weber conversion 32/36 DGV and it's still a winter car! Driven only from September to March in the north East.
The Weber I guess is nice but it was jetted for a B18. After months of adjustments and different jets, I got it to run right. But it didn't have the power at the places I wanted it. 60mph was all he'd do until the second jet engaged so highway driving was lame. I could "punch" it and open the other jet but .... I changed it to a pair if HS6 and they are lovely! Yes I like to tinker and SU's need to be tinkered with.... that may be the issue. They're made for me.
The car named Virgil is still on the road and doing fine as of 11/05/01. I just turned 200K in the odometer and drive it as my only car (in the winter). I drove him through the summer in 2000 and clocked 18,000 miles in 12 months. I think I average 350 miles per week as a result of being a fly fishing nut and Vintage Racing groupie.
If you've read this far you can see I'm a little nuts. I am married to a very understanding woman whom I love and she says she 's ok with me. I have 2 daughters who like cars and drive volvo's (the elder has a 240 and the younger has a 1800ES automatic). They let me conjure up stuff and humor me when I humor them. My wife of almost 28 years drives a 2001 V70 after years of driving whatever was running at the time. I thank her for her patience. I have a job and I have never worked in the car business except pumping gas in college. This is my hobby and it's only a little out of hand. My 1800ES has never been to the dealership or to a repair shop... neither has Virgil. When they break I learn how to fix 'em. My daughter's 240 hasn't yet but I don't know how long that will last. As for the "other" 1800ES they are both green and one has a roof rack from a 122. It came to me when I was weak and found an opening when I presented it to my wife as a fine car for the younger daughter. She was 12. My 1800 was stock except for the turbo wheels until this summer along with some new seats from Don Thibault. The injection was beginning to become haunted and I just love SU's. Out went the whole system as a backup spares for the other car. Now that one is haunted and tonight I'll be putting the Weber conversion on her 1800ES. It's just simple to agree that the Bosch is fine for almost 30 years. But when it begins to fail, it will drive you nuts. I've spent the time learning how to work it....now it's time to replace it with simple old carbs! When they break, you know how to fix.